Bob Elliott of the comedy team Bob and Ray died February 3, reminding your editor of one of the many routines Elliott and Ray Goulding performed on live radio.  It involved an inventor who had perfected a solar panel that could run the lights in your house all day, but couldn't keep them going at night when they were really needed.  That was over 50 years ago, and investigators at the Pacific Northwest National Laboratory, Argonne National Laboratory, SuperSTEM, and the University of Oxford have come up with a possible solution to Bob and Ray's quandary.
Combining two oxides, one containing strontium and titanium (SrTiO3) and the other lanthanum and chromium (LaCrO3), they came up with a material that uses the interface between the two oxides to absorb visible light and produce electrons (negative charges) and holes (positive charges), which might be "useful for catalyzing reactions, such as producing hydrogen fuel."
The oxides have to be kept apart, though, because otherwise, "they will quickly annihilate one another without doing anything useful," somewhat like a Hollywood marriage.  The international team cleverly synthesized the material as a series of alternating layers with a built-in electric field that separates the excited electrons and holes.  This strategy makes the materials an excellent catalyst.
A visual representation of this interaction might resemble a moire pattern, but possibly only to your editor.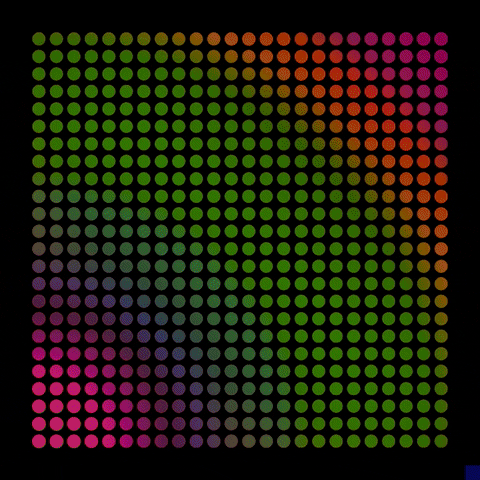 By controlling the interfaces to have either a positive or negative charge, the resulting electric fields can interact with electrons and holes excited by solar energy, driving electrons to the surface, where they interact with water molecules, break their bonds and produce hydrogen.
Bob and Ray would be proud.  Researchers report, "This material opens up new scientific frontiers to solve a persistent energy challenge: storing solar energy for later use. Fuel cells capable of running on hydrogen fuel created by solar energy could allow people to heat their homes and run their computers on solar energy even in the dark of night."  Or fly their solar-powered airplanes anywhere at any time.
Researchers are exploring the properties of these superlattices using cutting-edge X-ray measurements at synchrotrons around the world and using other advanced microscopy techniques to look at the chemical makeup of the interfaces.
As one would guess, this type of research requires heavy hitters in intellectual and fiscal terms.  Participants included the Linus Pauling Distinguished Post-doctoral Fellowship at Pacific Northwest National Laboratory (PNNL Laboratory Directed Research and Development, the U.S. Department of Energy (DOE), Office of Science,Office of Basic Energy Sciences (BES), Division of Materials Sciences and Engineering, PNL's Laboratory Directed Research and Development program,. Sector 20 facilities at the Advanced Photon Source (APS), the DOE BES, the Canadian Light Source and its funding partners, the University of Washington, and the APS.   Electron microscopy was carried out in parts at the SuperSTEM Laboratory, the U.K. National Facility for Aberration-Corrected scanning transmission electron microscopy, which is supported by the Engineering and Physical Sciences Research Council (EPSRC). The research leading to these results has received funding from the European Union Seventh Framework Program.
The team's paper, "Interface-Induced Polarization in SrTiO3-LaCrO3 Superlattices," was authored by Ryan B. Comes1,*, Steven R. Spurgeon1,Steve M. Heald2, Despoina M. Kepaptsoglou3, Lewys Jones4, Phuong Vu Ong1, Mark E. Bowden5, Quentin M. Ramasse3, Peter V. Sushko1 and Scott A. Chambers, and published in  Advanced Materials Interfaces.